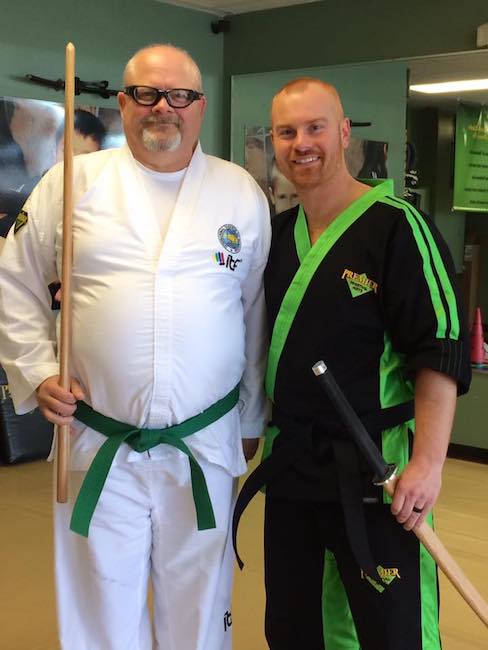 Not every martial arts instructor will invite other instructors in to instruct their students. I suppose they don't like other roosters in their hen house. I am fortunate to train under an instructor (Master Jeremy Kempka at Premier Martial Arts in Mint Hill North Carolina) who does not feel that way.
Today, we were honored to have Master Aaron Hensley in our Do-Jang to give us weapons training with the bo staff and the sword. Master Hensley is a 7-times world weapons champion and highly regarded in the world of martial arts. I was so impressed by Master Hensley. His qualifications and expertise were immediately evident and his teaching style exemplified the tenants of the martial arts.
I have always been fascinated by the art of the sword, so that was my focus. However, the opportunity to get training in the bo staff by such a noted martial artist and teacher was not to be missed; and he did not disappoint.
The information and technique instruction came fast and furious. A tremendous amount of information was given in the two hours of training, an hour with the Bo and an hour with the sword. Even though assimilating the information was like drinking through a fire hose, I found it interesting and believe it laid a firm foundation for adding another facet to my martial arts training. I feel safe in saying that everyone else in the packed training hall feels the same way.
The training today confirmed my affinity for the sword. I intend on training further with the sword and now consider it my "weapon of choice".
I would like to thank Master Hensley for taking the time from his busy schedule to come train and share his wealth of knowledge with us today. It was time well spent. I would also like to thank Master Kempka for inviting master Hensley into his hen house.
Until next time, TaeKwon,
Pops